Winter is a magical time, especially when you have a little one to share it with. But as the temperatures drop, it's important to make sure your baby stays warm and cozy during outdoor adventures. That's where a winter baby overall comes in. These adorable and functional garments are designed to keep your little one snug and stylish, no matter the weather. In this comprehensive guide, we'll explore everything you need to know about winter baby overalls, from their benefits to how to choose the perfect one for your little bundle of joy.
Benefits of a Winter Baby Overall
A winter baby overall is more than just a cute outfit for your little one. It offers a range of benefits to ensure their comfort and well-being in cold weather:
1. Warmth and Insulation
The primary function of a winter baby overall is to provide warmth and insulation. Made from high-quality materials like wool, fleece, and down, these overalls are designed to keep your baby cozy even in freezing temperatures. The double layer of wool in the Polar Bear Baby Virgin Wool Overall, for example, ensures excellent insulation and helps regulate body temperature.
2. Ease of Use
Getting your baby dressed can sometimes feel like a wrestling match, especially when it comes to buttons and zippers. Winter baby overalls often feature convenient fastening options, such as magnets or easy-to-use snaps, making dressing and undressing a breeze. Grey Bear Baby Virgin Wool Overall utilizes soft baby velcros as fastening options, ensuring a frustration-free experience for both you and your baby.
3. Versatility and Style
Winter baby overalls come in a variety of styles, colors, and designs, allowing you to find the perfect one that suits your baby's personality. The Polar Bear Baby Virgin Wool Overall, with its adorable bear ears and customizable hood strings, adds a touch of whimsy and style to your little one's winter wardrobe. Plus, it can be worn not only during the winter months but also in spring, autumn, and cool summer evenings, thanks to the thermoregulating properties of wool.
4. Sustainability and Comfort
Choosing sustainable and eco-friendly clothing for your baby is essential for their well-being and the future of our planet. Baby Virgin Wool Overalls are crafted from virgin wool, offering a plethora of benefits that prioritize both your baby's comfort and the environment.
Softness and Comfort: Baby Virgin Wool Overalls are exceptionally soft and comfortable, providing a cozy and gentle feel against your baby's delicate skin. Your little one will love the soothing comfort it offers, especially during the colder months.
Durability and Non-Allergenic: Wool is a naturally durable material, making Baby Virgin Wool Overalls a long-lasting investment for your baby's wardrobe. Additionally, it is hypoallergenic, reducing the risk of skin irritation and ensuring a safe and pleasant wearing experience.
Odor-Resistant and Wrinkle-Resistant: With the inherent properties of wool, Baby Virgin Wool Overalls stay fresh and odor-free even after extended wear. Furthermore, the fabric is naturally wrinkle-resistant, allowing your baby to look adorable without the worry of creases and wrinkles.
Moisture-Wicking and Breathable: Wool has excellent moisture-wicking properties, efficiently pulling moisture away from your baby's skin, keeping them dry and comfortable throughout the day. The breathable nature of wool ensures optimal airflow, regulating your baby's body temperature in various weather conditions.
Our Top Picks for Winter Baby Overalls
Now that you know the benefits and factors to consider, it's time to explore our top picks for winter baby overalls. These handpicked options combine style, functionality, and sustainability to keep your baby warm and stylish all winter long:
1. Polar Bear Baby Virgin Wool Overall
Our Polar Bear Baby Virgin Wool Overall is a must-have for any stylish and eco-conscious parent. Made with a double layer of virgin wool fleece, this overall provides superior warmth and insulation. The soft cream wool jersey lining ensures maximum comfort for your baby's sensitive skin. The adorable bear ears on the hood add a playful touch, while the reversible sleeves and pant bottoms keep your baby's hands and feet protected from the cold. With its magnets fastening, dressing and undressing your baby becomes a breeze. Plus, you have the option to customize the overall by adding your baby's name on the hood strings. This winter baby overall is not only fashionable but also sustainable, making it the perfect choice for conscious parents.
2. Canada Goose Baby Lamb Snowsuit Heritage


The Baby Lamb Snowsuit Heritage is a premium and cozy down overall from Canada Goose. Designed to keep your little one warm and comfortable in cold weather, this snowsuit is filled with high-quality down insulation. Its durable and water-resistant exterior provides protection from the elements, while the cozy fleece-lined hood and fold-over hand and foot cuffs add extra warmth.
3. Binibamba Cozy and Comfy Winter Overall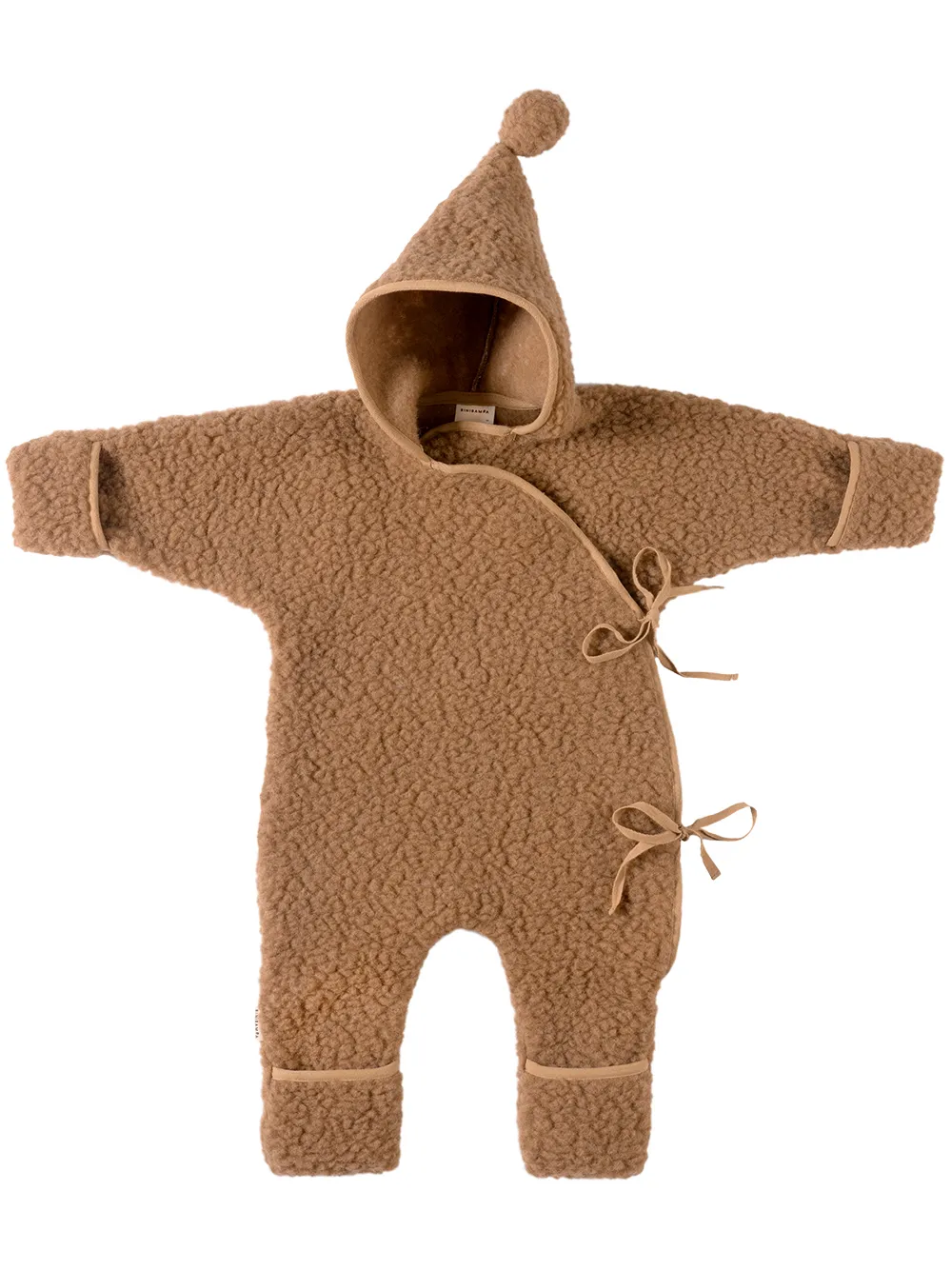 The Binibamba Hooded Merino Wool Romper s a luxurious and cozy overall perfect for your little one. Made from soft and natural merino wool. This romper is designed to be quite thin, during colder days, you may need to layer the romper with other clothing to ensure your baby stays snug and cozy.  Hood is not adjustable, but it does provide additional warmth and cuteness for your baby.
Conclusion: Keep Your Baby Warm and Stylish this Winter
Investing in a high-quality winter baby overall is essential to ensure your little one stays warm, cozy, and stylish during the colder months. From the benefits they offer to the factors to consider when choosing one, we've covered everything you need to know to make an informed decision. Our top picks, including the Polar Bear Baby Virgin Wool Overall, combine functionality, style, and sustainability, making them perfect choices for your baby's winter wardrobe. So embrace the magic of winter and create beautiful memories with your little one, knowing that they are protected and comfortable in their winter baby overall.